Brassica oleracea
Murasaki is the purple version of Fioretto – with bright purple florets atop long tender stems, this variety is captivating on its own or paired with Fioretto in a mixed package. Selected for uniformity, tender stems, flavor, and brilliant color. Production is similar to Fioretto.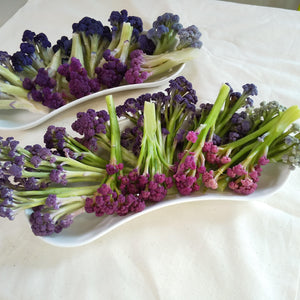 Cooking with Murasaki Fioretto
Note that Murasaki holds its color well in cooking, and brightens to fuchsia in vinegar.

Much like Fioretto, these florets shine when sautéed or roasted to a golden brown, but can also be enjoyed raw in crudités.